Although English is my second language, I Teach Guitar, Piano or Bass, in fluid English.
Through my many years of experience, I've been asked to teach an instrument to young kids, teens and adults who do not know much spanish yet.
Sometimes because they are part of families who work for an Embassy or foreign company. Sometimes they are part of a Church community or students from private schools. Or maybe retired american adults who live in Costa Rica.
Either way, I do my best to guide them in their music learning experience with:
Guitar Lessons
Piano Lessons
Bass Lessons (electric bass)
If you want to try one lesson, give me a call. I cover the area of Escazú, Santa Ana, Guachipelin or Sabana. For other cities or countries it would be a Virtual Class (via Zoom, Whatsapp, Messenger, etc.)
Cell: +506 8847-2137 (Whatsapp)
PRICES:
Private Lessons (I visit your Home). One 45 min. class is 25,000 colones.
Virtual Lessons (video chat). One 45 min class is 15,000 colones.
Alvaro Avila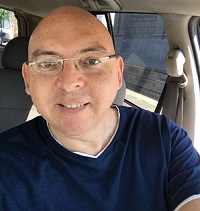 Music Teacher